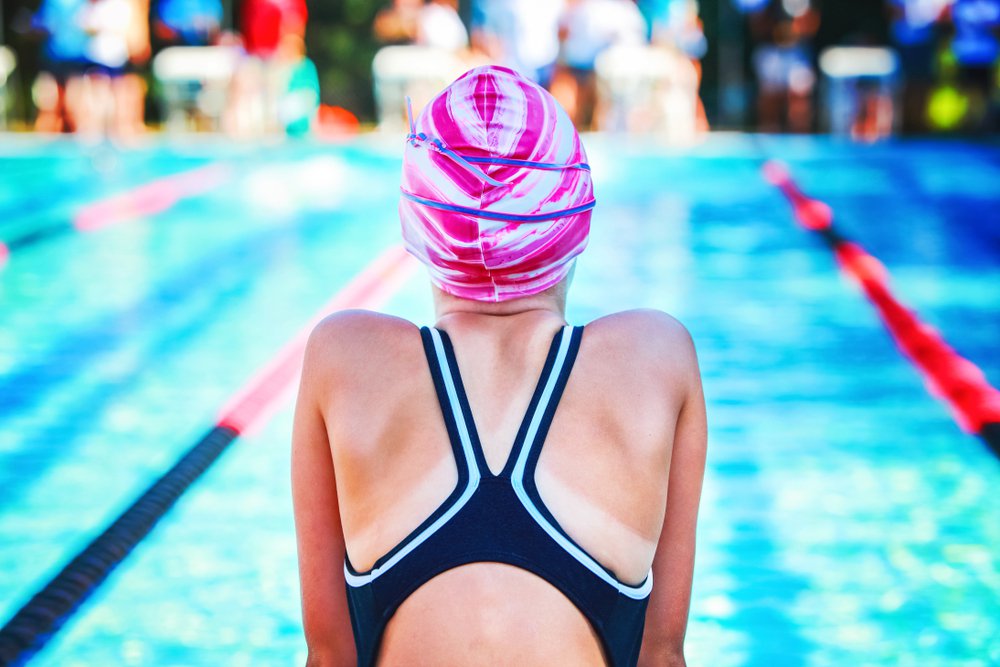 We always anticipate the summer vacations, sunnier days, and swimming pools that are associated with the upcoming season. But we often forget about another summer activity that begins with the letter "s": skincare.
This summer, swimming is a great way to exercise and enjoy the warmer weather. But chlorine and UV rays from the sun can be hard on your skin. That's why it is important that you take care of your skin before and after taking a trip to the pool. Here are four ways you can enjoy the pool while keeping your skin happy and healthy:
Apply (& Reapply) Sunscreen
Looking for a way to get your workout in and cool down from the summer sun? Hitting the lap lane at your local pool is a great option. But before diving in, make sure you have covered your skin with a broad-spectrum sunscreen. If you are swimming outside, wearing waterproof sunscreen with an SPF between 30 to 50 can provide protection from sun damage. Sunscreen is an easy and efficient way to actively prevent your skin from one of the most common cancers: skin cancer. Reapply sunscreen every two to three hours depending on how long you are exposed to the sun.
If you are concerned about spots on your skin, visit one of Premier Medical Associates dermatologists at One Monroeville Center for an accurate diagnosis and effective treatment plan.
Shower Before and After You Swim
While you typically do not shower before a workout, getting your skin wet before you get into the water can benefit your skin and the skin of other swimmers in the pool. Here are a few benefits to showering before your swim:
Your skin is less likely to absorb water or chlorine from the pool if it is already wet- If you are a swimmer, you know that a day in the pool can potentially leave your skin dry and irritated. Chlorine is a natural irritant present in the pool to keep it sanitized. Showering prior to your swim will prevent skin inflammation and damage from chlorine.
Protection for other swimmers- If you do not shower before your swim, you risk bringing sweat, lotions, and other contaminants into the water that exposes others to bacterial substances.
More enjoyable swimming experiences- By washing off any contaminants on your skin, the pool itself will be less contaminated and the chlorine in the pool will not need to work as hard to keep the pool clean.
Showering after your swim is equally as important. Warm water and soap are the key to removing harmful bacteria from the surface of your skin. A shower after the pool washes away chlorine and other chemicals that can cause skin irritation, infections, and rashes.
Moisturize Frequently
While showers after your swim are key to maintaining healthy skin, this constant water exposure can lead to skin dryness and dehydration. Probiotic moisturizers can soothe and rehydrate irritated skin after a long day in the sun and in the water. Some dermatologists also recommend moisturizers with ceramides. Ceramides prevent environmental damage by creating a firm barrier for your skin that locks in moisture and eliminates dryness.
Don't Forget About Your Feet
The skin on the bottom of your feet is also probably on the bottom of your skincare checklist. But the wet, warm platforms of pools allow for the spread of germs and bacterial growth. Walking barefoot on these platforms leaves the skin on the bottom of your feet susceptible to bacteria and other viruses which can lead to infections such as warts and athlete's foot.
At Premier Medical Associates, our dermatology services offer medical and surgical treatment for warts and other skin rashes. Do not wait for your skin condition to worsen. Schedule an appointment today to receive diagnosis and treatment options.
Looking for a dermatologist in Pittsburgh? We've got you covered. Premier Medical Associates is an affiliate of the Allegheny Health Network and is the largest multi-specialty physician practice in the Greater Pittsburgh Area. Our highly experienced dermatologists provide medical and surgical treatments for your skincare needs. Visit our dermatology team at One Monroeville Center or call us at 412-457-0422 for more information.