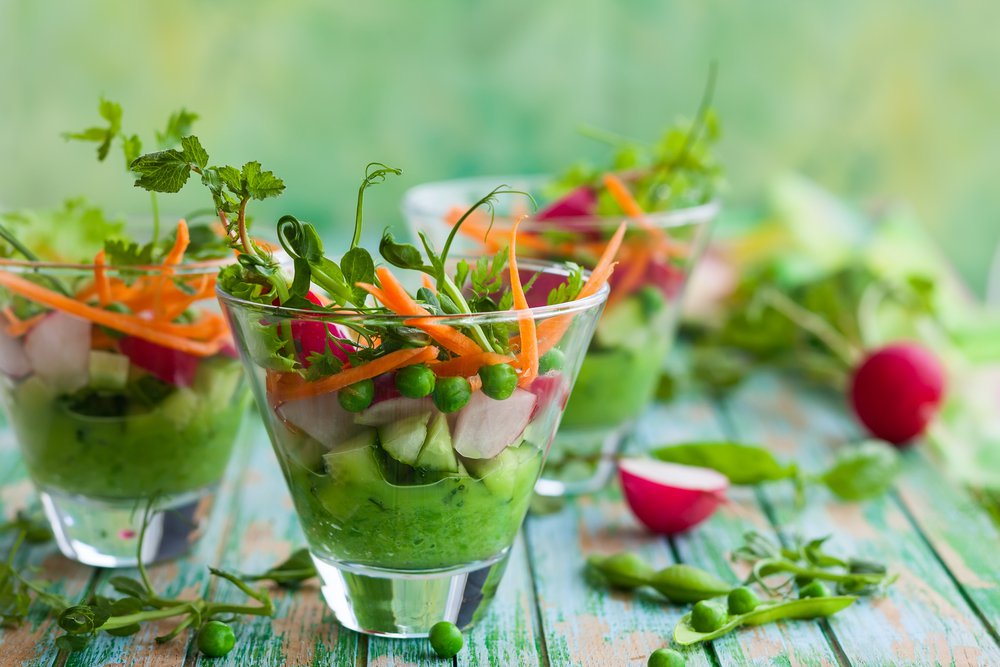 March is National Nutrition Month, and it's no wonder this national day coincides with the beginning of spring. From holiday gatherings to the types of hearty meals that can warm you up in the cold, winter is a time when many people pack in the calories, and once spring rolls around, they may be looking to branch out their diet. But "eating right" isn't just about counting calories – it's about making sure your body has all the proper nutrients it needs to stay healthy.
At Premier Medical Associates, we're proud to provide expert nutrition services to help our patients develop a plan and make the best choices for their individual needs. Here are three safe ways you can eat healthier this spring:
Incorporate Fresh Foods Into Your Diet
One of the most wonderful things about springtime is watching new plant growth rise from the earth – but it's not just about grass and flowers. Spring is the season for many healthy foods to grow fresh, including:
Avocados, which are a great source of heart-healthy fats that can help you lower cholesterol.
Carrots, which are high in fiber and helpful for maintaining blood sugar.
Spinach, which is chock full of fantastic nutrients like Vitamin A, Vitamin C, Vitamin K, iron, folate, and potassium.
Chives and leeks, which are high in calcium and beta-carotene.
These aren't just great foods to eat by themselves: they can serve a wide variety of purposes in cooking, and the fresher you get them, the better they'll taste. If you can, check out a local farmer's market where you can buy these items from those who grow them!
Don't Skip Out On the Greens
From St. Patrick's Day to tulip buds, green is without a doubt the official color of springtime. But have you considered making it the official color of your ultra-nutritious spring diet? "Eat your greens" isn't always the most popular advice, but for most people, it is key to developing a truly healthy dietary plan. Traditional greens like spinach and lettuce are excellent sources of fiber, which helps keep your digestive system on track – but they're not the only leafy greens out there. If you haven't given them a try already, consider:
Kale, known to be a "superfood" due to its dense concentration of nutrients.
Swiss chard, which contains potassium, calcium, and magnesium to help you maintain healthy blood pressure.
Watercress, which is low in calories and high in antioxidants.
Microgreens, which have probiotic qualities that are great for your gut health.
If you aren't the kind of person who usually gets excited about a salad, consider it to be a blank canvas! You can add fruit, protein, nuts, and a whole host of other healthy and delicious ingredients to make it taste exactly how you'd like.
Get Creative With Your Meals
Whether you're just making meals for yourself or setting the table for an entire family, cooking dinner every night can become a stressful chore – just another thing on your long list of "things to do today." Unfortunately, getting into a rut when it comes to your meals can often lead to monotonous eating, and when you consider your homemade meals boring, you might be more likely to make poor nutritional choices. Before you reach for the chips or order out, consider that you may be able to add some springtime flavor to your meals by trying an ingredient or recipe you haven't ever made before. Check out some healthy spring recipes to freshen your diet and bring a little excitement to your kitchen. Eating food that excites you and tastes great will help you to make healthy choices!
If you like the sound of these tips but you're not sure how exactly to get started, reaching out to a nutritionist near you can help. The team at Premier Medical Associates offers nutritional services to help those who need guidance to make safe, healthy dietary choices that can help them meet their goals and feel great during National Nutrition Month and all year round. Reach out to us if you're ready to get started with the best dietician Pittsburgh, PA has to offer.
Premier Medical Associates is an affiliate of the Allegheny Health Network and is the largest multi-specialty physician practice in the Greater Pittsburgh Area. Our highly experienced care team provides services like nutrition services and primary care for you and your loved one's needs. Visit our Monroeville office or call us at 412-457-0422 for more information.