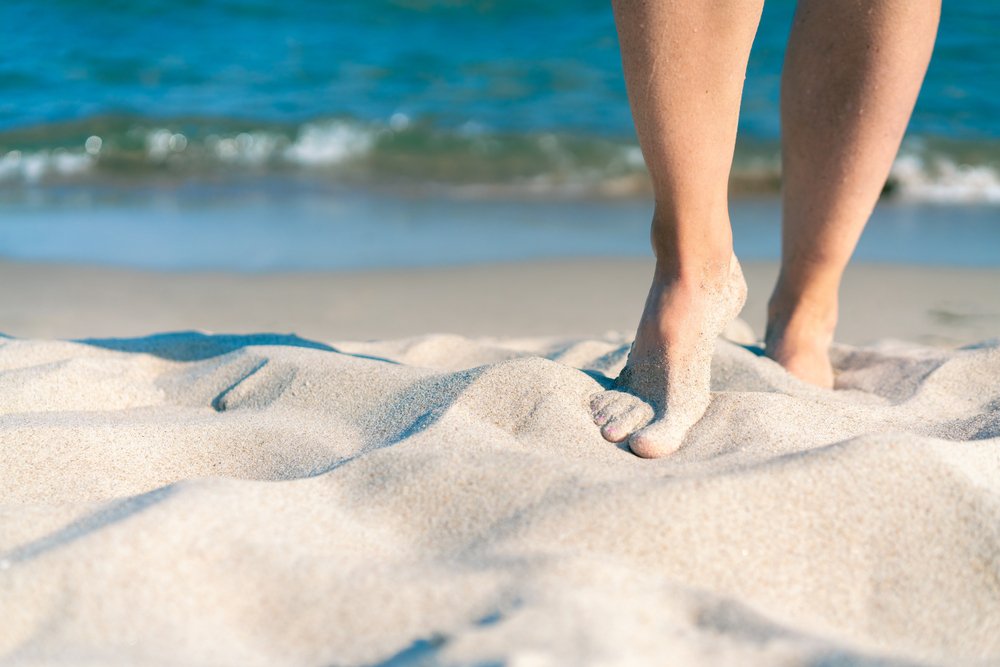 When it comes to our health, our feet are often an afterthought. But this shouldn't be the case, especially during the summer months. As the weather gets warmer and people spend more time outside, their feet are at a higher risk of injury. Here are five summer foot care tips from Premier Medical Associates to keep your feet healthy this summer.
1. Limit Walking Barefoot

Walking barefoot outdoors can be tempting in the warmer months. However, leaving your feet unprotected can lead to a multitude of problems. For example, walking on hot surfaces, like sand at the beach, with bare feet can lead to painful burns. Going barefoot also leaves your feet vulnerable to infections-- contact with fungi in a moist area, like a public pool or locker room, can cause athlete's foot, leaving you to deal with a painful rash. Similarly, you may develop plantar warts by coming into contact with human papillomavirus (HPV). Overall, it is best to limit walking barefoot whenever possible. Even wearing a pair of flip flops can prevent some of these

2. Wear Appropriate Footwear

When it comes to foot safety, choosing the right footwear is imperative year-round. However, it is especially important while engaging in outdoor activities this summer. To prevent injuries, wear shoes that are appropriate for your environment and activity. Wearing flip flops to the beach or pool is great, but if you want to go a step further, wear water shoes to protect your feet from the heat, sun, and debris. If you would rather spend your time outside playing a sport, choosing shoes that support your feet and ankles can help prevent fractures, strains, and other injuries. Protective shoes can work wonders in helping you enjoy your summer pain-free.

3. Clean Your Feet Thoroughly

Even when you wear protective shoes, being outside and around other people still puts you at risk for bacterial, viral, and fungal infections. These infections can be spread by sharing towels, socks, or shoes. Additionally, warm and damp areas like sweaty shoes and socks are perfect environments for fungi and bacteria to grow. For these reasons, you should always wash your feet thoroughly, dry them with a clean towel, and wear clean socks. You can also exfoliate your feet with a foot soak and pumice stone or foot file to remove any dead skin and lingering germs. However, you should always check with your doctor before using any of these products because they can be dangerous for those with certain health conditions.

4. Wear Sunscreen

Most people do not think to apply sunscreen to their feet, but this area needs it just as much as the rest of the body! When you leave your feet exposed to the sun, make sure to use an SPF of at least 30 on them, especially the tops.

5. Drink Plenty of Water

Staying hydrated is essential for every aspect of your health, but it is especially helpful to prevent foot pain and discomfort in warm weather. Hydration improves blood flow through your body, which helps circulation. Drinking enough water can prevent foot swelling and cramps caused by poor circulation.

6. Visit a Podiatrist

At Premier Medical Associates, our podiatric team is here to help you stay on your feet this summer. Whether you have a new injury or need help managing a chronic condition, Premier can address any problem with your feet, ankles, and lower legs, and we can even help you prevent future foot predicaments.
This summer, a visit to a Premier podiatrist at One Monroeville Center can help you stay on top of your foot health all season long. Schedule an appointment today!