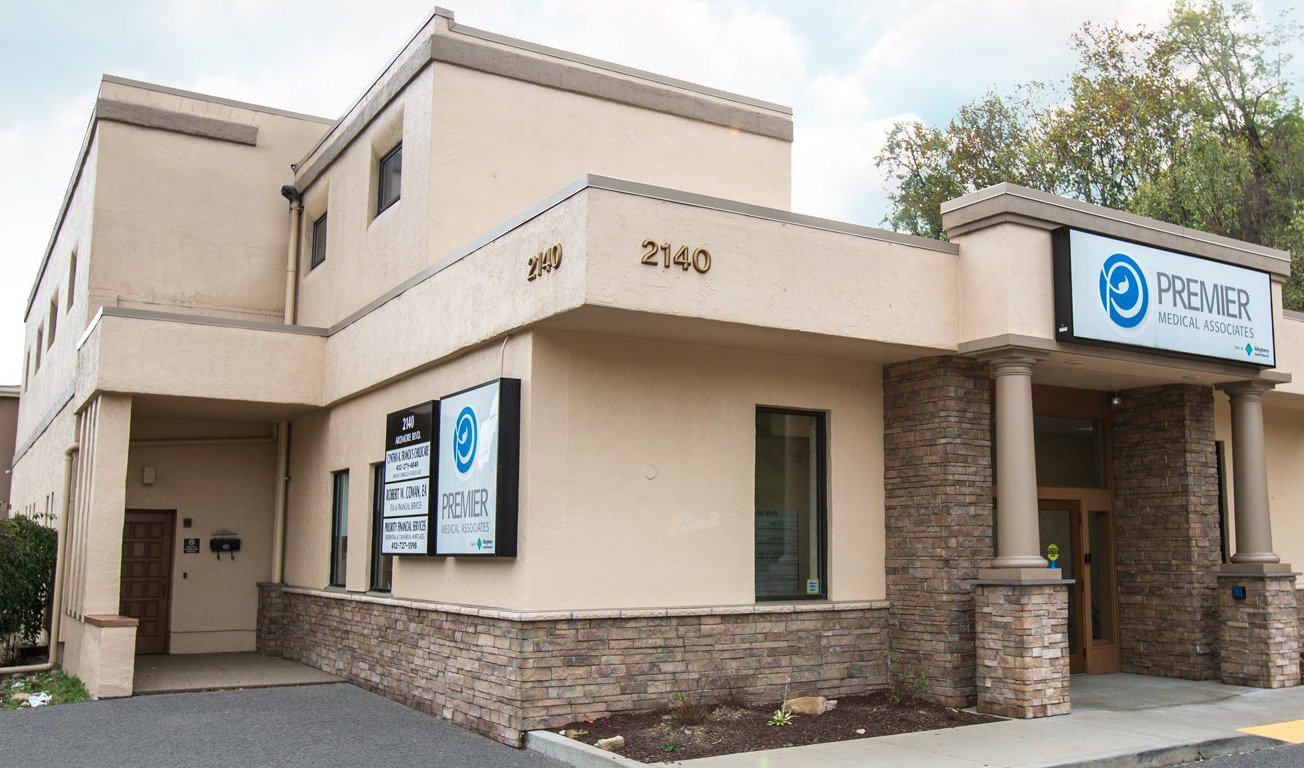 At Premier Medical Associates, we're proud to offer accessible health care services to patients across Western Pennslyvania. Nestled in the eastern suburbs of Pittsburgh, this facility stands as a beacon of quality healthcare and community wellness. With its expert medical team and welcoming atmosphere, it embodies our commitment to providing top-tier medical services to our patients.
Join us as we introduce you to this remarkable location, highlighting its services and the dedicated primary care practitioners and other healthcare professionals who make Premier Medical Associates in Forest Hills not just a medical center, but a cornerstone of the community.
What Our Forest Hills Location Can Do For You
From primary health care and eye care to comprehensive laboratory services, the team at PMA Forest Hills has you covered. More than just a primary care practice, our highly-skilled medical staff is equipped to handle a variety of health concerns, from minor ailments and routine check-ups to chronic or complex medical issues.
Some of the services we offer at this location include:
Primary Care

: Our team of board-certified providers offers comprehensive primary care services, covering all aspects of family medicine. This includes routine check-ups, preventive care, and treatment for common illnesses and injuries. Our primary care physicians are dedicated to managing and coordinating overall patient care, serving as the first point of contact for patients' healthcare needs. Our extensive range of health services ensures that we can cater to a diverse array of health needs within the community.

Laboratory Services

: Both patients and the general public have access to convenient blood draw services in our laboratories. These tests are used to diagnose and monitor many illnesses, as well as to check for potential health issues. Your doctor may order blood tests to check cholesterol levels, glucose levels, and other markers of overall health.

Ophthalmology

: We offer a comprehensive range of ophthalmology services at our Forest Hills location, providing essential eye care to the community. Our skilled ophthalmologists provide specialized eye care services, from routine examinations to advanced disease management. Not only do they perform detailed eye exams, prescribe corrective lenses, and manage complex eye disorders, but they also have the capability to perform surgical procedures at the AHN Surgery Center, offering patients access to advanced treatments and interventions.
Meet Our Forest Hills Team
Our Forest Hills office is staffed by a compassionate team of medical professionals who are dedicated to providing quality healthcare services. From the front office staff to the primary care providers, nurse practitioners, physician assistants, and ophthalmologists, our team is comprised of knowledgeable and experienced individuals who strive to ensure the best care for their patients. Primary Care
Radhika Kotha, MD

: Dr. Radhika Kotha is a dedicated and compassionate Family Medicine physician at Premier Medical Associates, serving patients at our Forest Hills location. She brings a wealth of knowledge and expertise to her role, having received her medical degree (MBBS) from the esteemed Gandhi Medical College.

Following her graduation, Dr. Kotha further honed her skills and deepened her understanding of family medicine during her residency training at United Hospital Center. This comprehensive training allows her to provide holistic care to patients of all ages and meet their personal health care needs.

Dr. Kotha holds board certification from the American Board of Family Medicine, a testament to her commitment to excellence and adherence to the highest standards of medical practice. Her affiliation with AHN Forbes Hospital further enhances her ability to provide coordinated and seamless care to her patients.

Patrick Lowden, MD

: Dr. Patrick Lowden is a highly skilled primary care physician at Premier Medical Associates, currently serving patients at our Forest Hills location. A proud alumnus of Pennsylvania State University College of Medicine, where he earned his Doctor of Medicine degree, Dr. Lowden couples his academic prowess with a genuine passion for patient care.

Prior to earning his MD, Dr. Lowden obtained his Bachelor of Science degree from Saint Vincent College, laying a solid foundation for his medical career. He then went on to complete his residency training at UPMC Shadyside, gaining hands-on experience in a diverse range of family medicine cases.

Dr. Lowden holds board certification from the American Board of Family Medicine, a reflection of his commitment to maintaining the highest standards of medical care, and he is affiliated with AHN Forbes Hospital.

Caitlin Yanizeski, PA-C

: Caitlin Yanizeski, PA-C, is a highly dedicated certified physician assistant professional serving at Premier Medical Associates' Forest Hills location. Caitlin received her Bachelor's degree in Biology from Saint Vincent College before pursuing her passion for healthcare at Lock Haven University of Pennsylvania. There, she earned her Master's in Health Science and specialized in Physician Assistant Studies.

She holds board certification from the National Commission on Certification of Physician Assistants (NCCPA), affirming her dedication to providing quality healthcare. She has been trained to provide comprehensive patient care, including preventive medicine and treatment for chronic and acute medical conditions.
Ophthalmology
David Baker, MD, MPH: Dr. David Baker is a distinguished and board-certified ophthalmologist at Premier Medical Associates. With an unwavering commitment to patient care, Dr. Baker brings a wealth of knowledge and expertise to our Forest Hills location.

Dr. Baker's journey into medicine began at the University of Michigan, where he earned his Bachelor's degree in General Studies and proceeded to complete his medical degree. His passion for public health led him to the University of Pittsburgh, where he obtained a Master's degree in Public Health.

Following his academic pursuits, Dr. Baker honed his skills in Ophthalmology during his residency at the State University of New York at Buffalo. This invaluable experience allowed him to delve deeper into the field, equipping him with the knowledge and skills to provide exceptional eye care to his patients.

He is a certified member of the American Board of Ophthalmology, further solidifying his credibility and dedication to his practice. In addition to seeing patients at our Forest Hills location, Dr. Baker also performs surgical procedures at the AHN Surgery Center in Monroeville and the Waterfront Surgery Center in Homestead, PA.

Erinn J. Tolomei, OD, MPH: Dr. Erinn J. Tolomei is a distinguished optometrist providing top-tier eye care services at Premier Medical Associates' Forest Hills location. She received her Doctor of Optometry degree from the Southern College of Optometry in Memphis, Tennessee, and further broadened her academic credentials with a Master of Public Health from the University of Pittsburgh.

Dr. Tolomei's training includes a residency at Group Health Cooperative, where she further refined her skills in optometry. This hands-on experience, combined with her academic achievements, equips her to provide a broad range of optometry services within the ophthalmology department. With her patient-focused approach, Dr. Tolomei is committed to offering personalized eye care to her patients.
Visit Our Forest Hills Office Today
Premier Medical Associates is proud to welcome patients to our Forest Hills location, whether they need a new primary care doctor, optometry and ophthalmology care, or even a quick blood draw. Our experienced team is dedicated to providing high-quality service and compassionate patient care in a comfortable and welcoming atmosphere.
Our Forest Hills team is here to help! Become a part of the Premier Medical Associates family by scheduling your appointment today. We look forward to seeing you!